Want More Money Audio Training Collection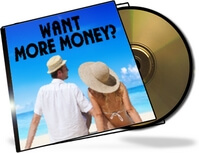 Looking for a solution to money challenges? Deep in your mind, your past history is directing all of your current thoughts and actions related to your financial situation. The lasting solution to money challenges is to re-program your mind to SUPPORT your goals. Fail to re-program your mind, and we just get more of the same financial challenges you are wrestling with today. Here are some brainwave tools to get you centered.
The "Manifesting Money (formerly Money Mind Power)" brainwave collection includes the below four unique brainwave training downloadable MP3 audios specially engineered by Dr. Jill Ammon-Wexler, 45-year brain/mind researcher and pioneer mind power trainer.
Our audio collections are constantly expanding, so come visit often. Our audios are ALL stereo-quality MP3s, so you can download them and listen on your computer or another listening device. They are NOT CDs. But you can make your own CD using your computer once you have downloaded the MP3.
Audio 1. Increase your SMR.
Beta SMR (sensorimotor response waves) brainwaves are a specific band of 12-15 cps. Low SMR causes low focused attention that looks a lot like attention deficit disorder.
Increasing your Beta/SMR brainwaves produces relaxed focus and improved attentive abilities. It also improves your sleep and boosts your energy for the rest of the day. You can use the *Coffee 'n Blues* MP3 in this collection to instantly achieve this.
This audio deserved a permanent home on your mobile phone. In minutes it drops you down into stress-busting low Alpha, then back up into clear thinking Beta SMR. Headphones are not required. (Value $10.95)
Audio 2.Bridge the Schumann Frequency.
The Schumann Resonance frequency bridges your conscious mind, subconscious, and superconscious mind. Many people do not have active brainwaves in this frequency, and as a result, do not remember their dreams and have little awareness of their intuition and early memories.
You can use the *Deepened Mental Focus* MP3 in this collection to achieve extraordinary mental conditions. This 10-minute binaural beat training centers in the central Schumann Resonance duplicating the Earth's primary brainwave of 7.83 cps Theta.
The training actively connects your thinking mind to your intuitive subconscious mind. The audio is overlaid with sounds of rainforest birds and ends with an uplifting guitar riff to pull you into relaxed high Alpha. Stereo headphones are required for the proper effect. (Value $12.95)
Audio 3. Build Money Mind Power.
The 10 minutes *Money Mind Power* MP3 in this collection has unique brain sharpening and IQ-building effects. It builds the focused mind power that fuels prosperous thoughts and actions. The training is based on Dr. Ammon-Wexler's 45+ years of EEG research with prosperous people from all walks of life from literally around the world.
The training ramps from low Delta up to exciting 40 cps Gamma, then back down to zero Delta. The audio is interlaced with pleasant ocean sounds and produces a pressure-free effect that can be replayed if desired. Headphones are not required. (Value $12.95)
Audio 4. Ease Your Stress.
Could you use a natural stress-buster and an uplifting break during the day? If you have the *Money Mind Power* audio collection, then you will love the *Walk in the Park* MP3 in this collection.
This 10-minute audio is a free gift to buyers of the Money Mind Power MP3 collection and is an instant solution to the stress many people are feeling around financial issues today.
This engineered interwoven peaceful natural sounds of water, birds, and wind chimes directly create healthy Alpha brainwaves. It is best with closed eyes but can be listed to in a moving vehicle with open eyes to calm traffic stress.
You can even play this refreshing and audio in the background to create a calm and peaceful ambiance. Headphones are not required. (Value $12.95)
 To order the "Manifesting Money Audio (formerly Money Mind Power ) Collection" — a $49.80 value for only $39.95 Click the order button to order


Attention: If you use PayPal and select the "Pay later" option — we
will not be able to send your product until your PayPal payment clears.
Please note: if you're buying with your mobile phone do not use
PayPal because it will not process. Use the credit card instead!

Shopping on our site is totally safe!

Note: This audio collection is designed to support an ebook — "Money Mind Power ( formerly Manifesting Money. )" If you do not yet have this popular ebook, you can get it here=> Click Here!