Can you reverse the aging process?
People in an unusual Harvard research project acted and felt twenty years younger. Dr. Jill explains that though our bodies start to age at 30… there's a natural way to slow your aging process –HgH.
Healthy Longevity Audio Training Collection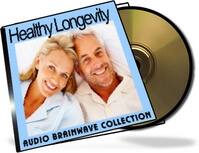 There's more to healthy longevity than physical exercise and a healthy diet. The deeper issues are maintaining mental agility and human growth hormone (HGH) production. HGH is naturally produced by our brain, but production tapers off as we passage 30. Decreased HgH leads to skin aging, weakened bones, lessened sexual performance, and a less reliable immune system.
The "Healthy Longevity" brainwave collection includes the below unique brainwave training downloadable MP3 audios specially engineered by Dr. Jill Ammon-Wexler, 45-year brain/mind researcher and pioneer mind power trainer.
Our audio collections are constantly expanding, so come visit often. Our audios are ALL stereo-quality MP3s, so you can download them and listen on your computer or another listening device. They are NOT CDs. But you can make your own CD using your computer once you have downloaded the MP3.
Audio 1. Boost Memory and IQ
Numerous studies have shown that famous philosophers, inventors, and artists use the right and left brain hemispheres in unison. You can boost your own hemispheric balance using the *Quick Balance* MP3 that comes as a free gift with this brainwave training collection.
This 5-minute audio is powerful but playful audio with engineered musical sounds that strengthen the corpus callosum to improve communication from one side of your brain to the other.
Load this audio onto your mobile device as a quick pick-up. No headphones are required. You'll feel comfortably alert and optimistic as your brain produces healthy SMR/low Beta brainwaves. Over time you'll experience enhanced cognitive performance and intellectual functions. (Value $10.95)
Audio 2. Avoid Unnecessary Aging
Are you interested in avoiding unnecessary aging? Researchers say a major secret of healthy longevity is our ability to produce human growth hormone (HGH.) This hormone is naturally produced by your brain when you are young but tapers off as you passage 30.
This reduction contributes to skin aging, weakened bones, less reliable intimate performance, and a far less reliable immune system. You can use the *Stop the Clock* MP3 in this collection to encourage your brain to produce more HGH.
This 23-minute audio is a very pleasant but deeply powerful session focused on 1.05 cps Delta. This stimulates your brain to release natural Human Growth Hormone (HGH) to encourage stronger joints and bones, better skin, more energy, and less risk for certain diseases.
Headphones are not required. Do not be concerned if you fall to sleep, as your brain still gets the same stimulation. (Value $12.95)
Audio 3. Enhance Your Mental Functions
Robert Cosgrove MD, a well-known authority in biomedicine, says *technologies that alter brainwave patterns have great potential for use promoting optimal cerebral performance and delaying for decades the deterioration of the brain traditionally associated with aging.*
You can use the *Senior Balance* MP3 in this collection to greatly enhance your mental functions and fight back against mental aging diseases. This 21-minute audio encourages hemispheric balance and builds mental focus. It is especially beneficial if you are over 35 years old, or stressed.
This audio training strengthens the corpus callosum connecting the two sides of your brain. This improves the communication of thoughts and information from one side to the other, creating what neurologists call *whole-brain functioning.*
Uplifting "Clair de Lune" eases you in and out of the training experience. Be sure your stereo headphones are on correctly, with the right side on your right ear, and the left side on the left ear. (Value $12.95)
Audio 4. Fight Back Against Aging
You need to fight back against aging. A study by Vincent Giampapa, MD, former president of the American Board of Anti-Aging Medicine, revealed that a certain combination of brainwaves dramatically affects the production of three hormones important to increased longevity and well-being: Cortisol, DHEA, and melatonin.
You can use the *Brain Brightener* MP3 in this collection to fight back against aging. This 10-minute brain sharpening audio is great for all ages and is especially remarkable for those under high stress. The session ramps from zero Delta up to 40 cps Gamma and back down to zero Delta.
This combination of brainwaves decreases the production of cortisol – the age-accelerating hormone in the brain – but encourages the production of DHEA and your resistance to disease. It also builds your production of melatonin to help you fight physical aging.
The Brain Brightener audio can be replayed for a longer experience, and headphones are not required. (Value $12.95)
To order the "Healthy Longevity Audio
Collection" — a $49.80 value for only $39.95


Click the order button to order




Attention: If you use PayPal and select the "Pay later" option — we  will not be able to send your product until your PayPal payment clears.
Please note: if you're buying with your mobile phone do not use PayPal because it will not process. Use the 2Checkout instead!

Shopping on our site is totally safe!