"Law of Attraction Success: Create Future Memories" Audio Collection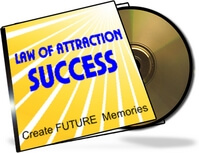 The power of thought is beyond concept. It's a scientifically proven fact we literally become what we think about! Everything in existence first appeared in someone's imagination, but the ability to focus our brains to create our desired reality is one of our least understood mental powers. Learn exactly how to use the focused power of future memories for instant personal transformation.
The "Law of Attraction Success: Create Future Memories" brainwave collection includes unique brainwave training downloadable MP3 audios specially engineered by Dr. Jill Ammon-Wexler, 45-year brain/mind researcher and pioneer mind power trainer.
The audios are ALL stereo-quality MP3s, so you can download them and listen on your computer or other listening device or phone. They are NOT CDs, but you may be able to make your own CDs using your computer once you have downloaded the MP3.
Audio 1. Apply the Power of Hypnosis
Do you respond well to hypnosis and subliminal messages? Many people find they do on a very deep level. You can use the *Memory Session* audio in this audio collection to truly put the power of deep hypnosis to work.
This 10-minute session is a unique light Alpha brainwave relaxation audio with embedded spoken messages by Dr. Jill, who is also an expert Ericksonian hypnotherapist. This surprisingly powerful audio gently guides and supports your creation of Future Memories on a deep subconscious level. Headphones are not required. (VALUE $12.95)
Audio 2. Perform Brain-Based Visualization
Visualization is a powerful success tool, but it only works if your vision is stored in your subconscious mind. That is why the ability to relax deeply and generate Alpha and Theta is a major key to manifesting your goals.
The secret is to teach your brain to maintain conscious simultaneous Alpha and Theta as you implant your visualization solidly into your subconscious mind. You can use the *Centered* audio in this collection to put the power of brain-based visualization to work.
This unique 10-minute binaural beat audio is tightly focused in the gate between conscious Alpha and your deeper Theta brainwaves. The training contains relaxing sounds of rainforest birds and ends with an uplifting guitar riff to pull you back into balanced high Alpha brainwaves.
The training background consists of relaxing sounds of Costa Rican rain forest birds and ends with an uplifting guitar riff to pull you back into balanced high Alpha brainwaves. Focus your mind on an image of your desired visualization, but be sure to relax your eyes and your tongue (a tight tongue generates too much Beta). Stereo headphones are absolutely required for proper effects. (Value $15.95)
Audio 3. Create Powerful Future Memories
Are you familiar with the concept of creating Future Memories of success? Dr. Jill coined that term over 10 years ago, but we now see it popping up all over the web.
Future memory is a brain-based vision of yourself in the future. A vision in which you experience living the reality you envision. From a brain perspective, this requires your brain to make random neural connections and be able to create insights beyond your ordinary reality. You can use the *Brain Storm* audio training in this collection to strengthen your ability to create achievable future memories.
This 20-minute audio will also help you store future memories in your brain as achievable action plans. The training ends with a balanced Beta/SMR brainwave boost, and stereo headphones are required. (Value $18.95)
Free Gifts. Reach Your Goals
This MP3 audio collection comes with two free gifts that can help you convert your future memories into achievable goal plans.
Gift one is a *Smart Goals* printable 17 page PDF. This workbook was created to support your development of clear, well-defined goals upon which to focus your Future Memories. (Value $10.95)
The second gift is a *Join the 3 Percent* MP3 audio message that contains uplifting insights on how to discover your true passion and put it to work. Headphones are not required. (Value $10.95)
To order the "Law of Attraction Success: Create Future Memories" Audio Collection — a $69.75 value for only $39.95 Click the below order button 


Attention: If you use PayPal and select the "Pay later" option — we will not be able to send your product until your PayPal payment clears.
Please note: if you're buying with your mobile phone do not use PayPal because it will not process. Use your 2Checkout instead!

Shopping on our site is totally safe!

Procedures for the creation of Future Memories are included in a chapter of this latest downloadable book by Dr, Jill Ammon-Wexler.

BREAK FREE: 12 Scientifically Proven Ways to Be Incredibly Happy. Just reading the real-life stories and transformational insights in this book WILL instantly change your life in truly remarkable ways. The author of this life-changing book, Dr. Jill, is a pioneer brain/mind and consciousness researcher and doctor of psychology, go read the first chapter FREE here=> Click Here!