Bust Your Stress Audio Training Collection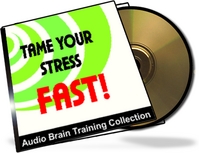 Your ability to feel calm in the face of any source of stress rests on a tiny quarter-sized spot in your brain's left cortex. Use this audio collection to turn on this important brain center. This collection of brainwave audios will literally train your brain to melt down your stress so you can take positive action. Come read more and review this amazing collection of specially engineered brain trainings.
The "Fast Stress Buster" brainwave collection includes five unique stereo-quality brainwave training downloadable MP3 audios. They have been engineered to provide stress relief by Dr. Jill Ammon-Wexler, 45-year brain/mind researcher and pioneer mind power trainer. These MP3s are NOT CD's. But you can make your own CD using your computer once you have downloaded the MP3.
Audio 1. Power Nap. Free Gift
Our FREE GIFT with this audio brainwave collection. Sometimes the best way to break stress is a short nap. This session eases you into a 10-minute stress-busting power nap interlaced with subliminal relaxation suggestions. Headphones not required. (Value $12.00)
Audio 2. Fast Relax
A fast descent into relaxing Mid-Alpha for a quick "stress melt." Best used by those who have already begun to master their stress management techniques with the other stress sessions. Very soft sound of Tibetan singing bowls in the background. Close your eyes and mentally (silently) repeat "Just Let Go." Headphones not required. 15 minutes. (Value $14.95)
Audio 3. WorkBreak
A great session to use during a work break. Opens and closes with upbeat blues. The modulated reverb organ sound is relaxing, revitalizing, and refreshing … all at once. Headphones not required. 10-1/2 minutes. (Value $15.95)
Audio 4. Easy Balance
A relaxing Alpha session with alternating left-right hemisphere stimulation. Reduces stress-related mental chatter. Can produce some interesting higher mental states. Stereo headphones required. 15-1/2 minutes. (Value $14.95)
Audio 5. Sub-Delta
Deeply soothing sub-Delta (0 – 1 cps) brainwave stimulation. Do NOT use in a moving vehicle, and this audio may induce sleep. Especially calms your emotional brain (the limbic system), as both the amygdale and hypothalamus operate at Delta frequencies. Proven to help ease fibromyalgia, chronic pain, anxiety and high blood pressure. Headphones not required. 10 minutes. (Value $21.95)
To order the "Fast Stress Busters Audio Collection" — a $79.80 value for only $44.95 Click the order button to order
Attention: If you use PayPal and select the "Pay later" option — we will not be able to send your product until your PayPal payment clears.
Please note: if you're buying with your mobile phone do not use PayPal because it will not process. Use the credit card instead!

Shopping on our site is totally safe!

Note: This audio collection is designed to support an ebook — "The Brain-Smart Stress Solution." If you do not yet have this popular ebook, you can get it here=> Click Here!