Deep Meditation
MP3 Audio Training Collection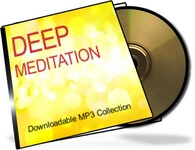 Congratulations on your decision. The audio MP3s in this collection were specially engineered to help increase your mental focus and teach your brain to create mental states conducive to (1) improve the connection between your conscious and subconscious mind, (2) establish a balanced right brain-left brain state, and (3) improve the depth of your meditation.
They are equally effective for training yourself to enter into deep states of relaxation and to quiet any mental chatter. Unlike most brainwave audios commonly available online, these audios are based on over 45 years of EEG research and clinical experience. They are not meant for casual listening but as a method of training yourself from the brain out to create the mental states associated with deep meditation.
The sounds on these audios are NOT intended to sound like music. What may sound like static or sound overlays or different sounds in each ear, are NOT accidental. These sounds have been combined to both entrain and train your brain to learn to create these frequencies on its own over time.
Audio 1. Solfeggio 963. Free Gift
Solfeggio 963 MP3. (Our FREE gift) with this collection. The ancient Solfeggio frequencies used in ancient Gregorian chants were rediscovered in modern times by Dr. Joseph Puleo. The 963 cycles-per-second (Hz) frequency is tied to awakening the divine energy within one's heart. It is considered the "return to oneness" frequency. 5 minutes, no headphones required. (Value $12.95)
Audio 2. OM Chant Mp3.
The sound of Om is considered to be the basic sound of the universe. This MP3 is designed to help teach your brain to duplicate the "hemispheric balance and brain synchrony" brainwave state experienced by Tibetan monks as they chant this sound. You may wish to simply listen, or chant along with the audio. A recording of the chants of Tibetan monks during an actual meditation. 10 minutes, no headphones required. (Value $12.95)
Audio 3. Tibetan Bowls
Recording of actual Tibetan bowls during a group meditation session conducted by Dr. Jill in the redwood-forested mountains behind Santa Cruz, California. 10 minutes, no headphones required. (Value $12.95)
Audio 4. Om Mani Padme Hum
Om Mani Padme Hum. Is the six-syllable Sanscrit mantra often carved onto rocks or written on paper inserted into prayer wheels.
When an individual spins a prayer wheel, the effect is the same as reciting the mantra as many times as appears within the wheel. This advanced Om Mani Pädme Hum MP3 contains the essence of the entire Buddhist teachings. When you chant the first syllable Om it helps you achieve perfection in the practice of generosity.
Ma helps perfect the practice of pure ethics. Ni helps achieve perfection in the practice of tolerance and patience. Pä, the fourth syllable, helps to achieve perfection of perseverance. I help achieve perfection in the practice of concentration, and the final sixth syllable Hum helps achieve perfection in the practice of wisdom. 10 minutes, no headphones required. (Value $15.95)
To order the "Deep Meditation Audio Collection" — a $54.80 value for only $39.95 Click the order button to order
Attention: If you use PayPal and select the "Pay later" option — we will not be able to send your product until your PayPal payment clears.
Please note: if you're buying with your mobile phone do not use PayPal because it will not process. Use the credit card instead!

Shopping on our site is totally safe!

Note: This audio collection is designed to support an ebook — "The Brain-Smart Stress Solution." If you do not yet have this popular ebook, you can get it here=> Click Here!